WEEKLY OPEN HOUSE and MONTHLY THIRD FRIDAYS
Every Friday 11 am - 4 pm approximately 5 - 10 studios and galleries on the first two floors are open to the public with lunch service provided by Luxe's Good & Plenty Bar. On Third Fridays, the building stays open through 9 pm with over 40 studios and galleries, 20+ pop-up artisans and several food vendors opening up after 5 pm.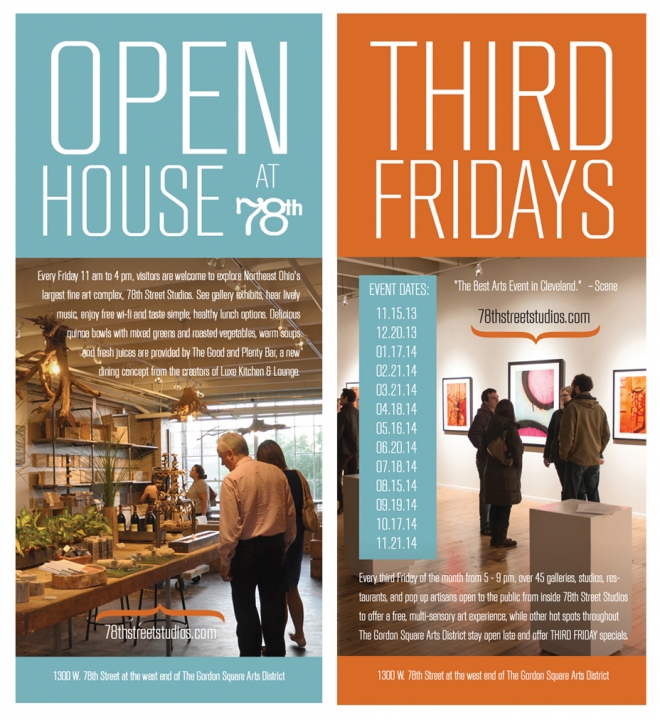 Named Cleveland's Best Arts Event by Scene Magazine, THIRD FRIDAYS is a multisensory art experience on the third Friday of every month that starts or ends at 78th Street Studios. 
THIRD FRIDAYS launched in 2005 as a quarterly event among three galleries at 78th Street Studios, pulling in a few hundred people. By the end of 2012, this cultural happening grew to a monthly attraction between 40 tenants at the property, drawing close to 1100 visitors. Today, THIRD FRIDAYS has expanded to a district-wide event to include promotions and dining specials in the restaurants, bars and boutiques of Gordon Square. Visitors can enjoy free gallery exhibits, curated and live music, a pop-up artisan market, product specials and delicious food. It's a retail adventure that allows the public to interact with Cleveland's living artists and to discover authentic art, furniture, and cuisine made in this region.
On 9/20, 10/18, 11/5 and 12/20, Gordon Square will be providing FREE shuttles throughout the entire district from 6 pm - 12 midnight.  Click here for details: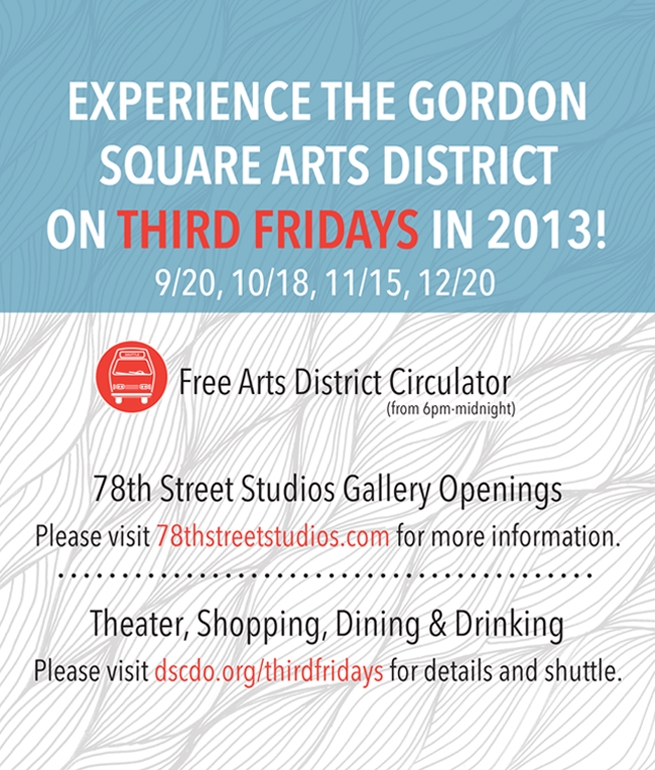 Private Art Tours
If you're looking for an authentic Cleveland experience that's creative and customized, look no further. The spaces inside 78th Street Studios are run by professionals who have decades of experience planning private events for groups of any size. We work with you to formulate an itinerary based on the goals of your organization and the types of art you'd like to see. Your guests can hear prepared remarks tailored to your program's theme, talk directly with the artists in an intimate setting, and explore a century-old property with a lot of character. Ideal for:
Human Resource departments planning a company retreat
Corporations extending a goodwill gesture to VIP clients
Associations offering specialized benefits to their members
Institutions facilitating lessons on entreprenuership in the arts
For more information, please contact Susie Frazier at susie@susiefrazierart.com or 216-272-4757.